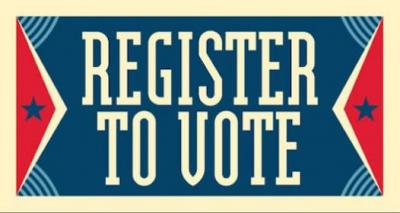 Visit our Resource Databases page, or follow the links, to find tools to register to vote or apply for a Mail-In Ballot. The deadline to register to vote is Monday, October 5, 2020. You will need to request a mail-in ballot by Saturday, October 31, 2020. 
"All Ohio voters whose registration information is up-to-date have the opportunity to vote in any election from the convenience of their own homes by requesting an absentee ballot. Absentee voting has many benefits -- You can vote early, it is convenient, it reduces the chance of lines at the polls on Election Day, and absentee ballots are the first votes counted on Election Night. Voters need only fill out and return an application and their absentee ballot will be mailed to them so they may make their selections at their leisure and return their ballot to the board of elections ahead of Election Day.
The deadline to request an absentee ballot is three days before the election in which you want to vote, but voters can submit their application any time. If mailed, absentee ballots must be postmarked by the day before the election in order to be counted. You can also return your absentee ballot in-person to your county board of elections before the close of the polls at 7:30pm on Election Day.
You can request your ballot for each individual election beginning on January 1 or 90 days before the date of an election, whichever is earlier, but you must complete and submit a separate application for each election in which you want to vote. Your request must be received by your local county board of elections by noon the third day before the election (usually a Saturday). However, you should submit your request as far in advance of the election as possible to ensure there is sufficient time for the board to mail you a ballot and for you to timely return that ballot."
-From website of Frank LaRose, Ohio Secretary of State, https://www.ohiosos.gov/elections/voters/absentee-voting/#byMail