The 2021 Summer Reading Program will run from Monday, June 7 to Friday, July 16.  
This year's theme is "Tails & Tails" and will focus on animals in stories!  
Our Summer Reading Program will feature lots of special storytimes in the park with Erin and Linsy, fun online programs, and, of course, a Reading Challenge with prizes for all ages!  
We will also be holding a Summer Reading Kickoff event at the location of the future main library. This location is located on 335 across from Columbia Dr.
You can sign up for the Summer Reading Challenge at any library location starting June 7.  Keep an eye on www.facebook.com/pikecountylibrary for more details.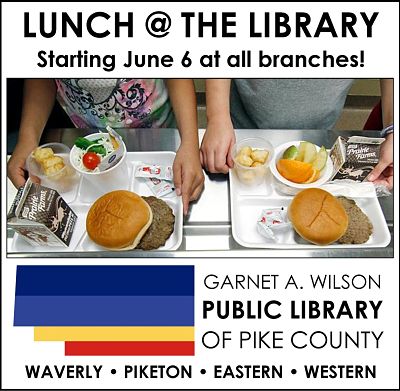 Starting June 6, all branches of the library will offer free lunches daily to children and teens age 1 to 18 through the USDA Summer Food Service Program. There is no income requirement for daily meals; all children seeking a healthy lunch will be fed.
In addition, children may qualify for a take-home pack of weekend meals, which are sent home on Fridays. Weekend meals include two prepackaged breakfast meals, four prepackaged lunch/dinner meals, and one 32-ounce white milk. Parents/guardians simply need to fill out a one-time form per child to verify income eligibility for the Friday take-home packs.
Lunches will be served Monday through Friday from 12:15 to 1 p.m. at each Pike County library branch. For more information, please call the library at (740) 947-4921 or the Pike County Senior Center at (740) 947-5555.
This program is federally-funded by the US Department of Agriculture, and sponsored by the Community Action Committee of Pike County.
Please share this information so that no Pike County child goes hungry this summer.
We have new walk-in hours for computer and technology training at the main library! Please call Kim at (740) 443-9621 for branch hours or to set up a one-on-one training session.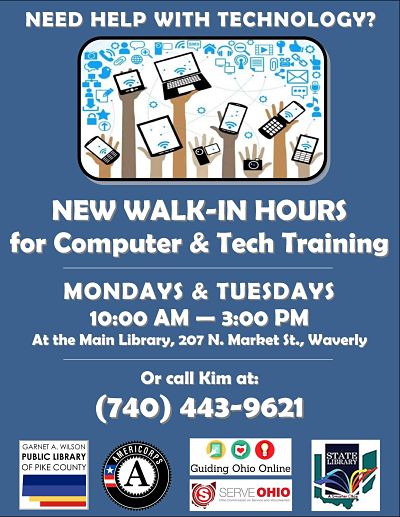 par·kour • /pärˈko͝or/ (noun):
the activity or sport of moving rapidly through an area, typically in an urban environment, negotiating obstacles by running, jumping, and climbing.
Learn something new this summer as Parkour Horizons from Columbus comes to Waverly to present a FREE parkour demonstration and training for all ages!
The parkour event is scheduled for Saturday, July 9 from 1 to 4 p.m. and will be held at the future site of the main library, located next to Bristol Village on State Route 335, directly across from Columbia Drive.
In the meanwhile, watch the video below to learn more about parkour, and visit Parkour Horizons on Facebook for even more action! (Attached video is a promotion for Parkour Horizon's summer camps in Columbus, Ohio. No registration is required for the library's parkour event in July.)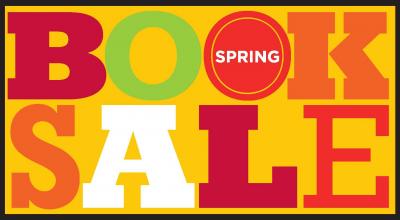 Stop by the Piketon Branch of the library during Dogwood Festival Weekend for great deals on used books!  All proceeds will benefit "The Next Chapter" campaign to build a new main library facility.
National Library Week is almost here, and we're celebrating by waiving fines for food donated to the Outreach Council's pantry! Save the date, save some food, and save yourself some fines!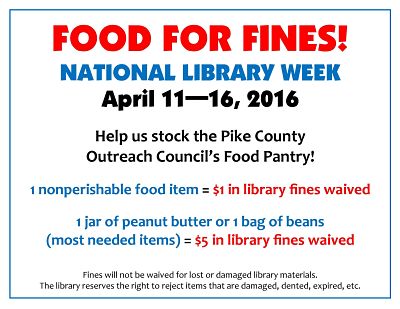 March 5-12 is national AmeriCorps Week, and the Garnet A. Wilson Public Library is celebrating the successful launch of our Guiding Ohio Online program, which is administered by AmeriCorps member Kimberly Roush.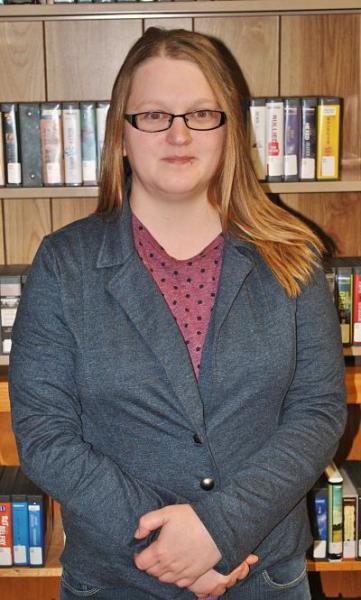 Kim Roush, technology trainer
Each year during AmeriCorps Week, AmeriCorps members and alums are recognized for the extraordinary impact they make across our nation every day.  The popularity of our new program is a testament to the great need for technology training in our community, and Kimberly has embraced the task head-on to provide outstanding service and learning opportunities for our patrons.
Since our technology and computer training program launched in November 2015, Kimberly has utilized her part-time hours to help dozens of library patrons with their educational needs.
Recommended Research Database