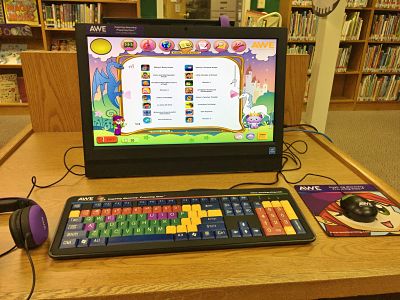 The children's department at the Garnet A. Wilson Public Library in Waverly is the proud new home to two high-tech AWE Digital Learning Stations, thanks to a $4,999 Library Services and Technology Act grant from the federal Institute of Museum and Library Services, awarded by the State Library of Ohio.
Both the Early Literacy Station, geared towards ages 2 to 8, and the AfterSchool Edge workstation, intended for school-age children ages 6 to 12, feature educational games that cover the seven main curriculum areas:  Reading, Words and Phonics, Math and Problem-Solving, Science and Nature, Social Studies and Geography, Computer Skills, Research, and Music and Art.  All of the content is aligned to STEM/STREAM and correlated to both Common Core and National State Academic Standards.
"For children living in Pike County, which is no stranger to poverty, the opportunity to utilize such state-of-the-art, enriching, entertaining learning tools will be invaluable," said Jennifer Slone, Public Services Coordinator.  "The library hopes that the installation of these stations will help to create a love of learning within our local students that will enhance their performance in school."
The goal of this library project is to provide a safe and fun learning environment for children in the community.  The AWE literacy stations are presented with one goal in mind – "edutainment."  The stations are colorful, inviting, easy to use, and also feature the ELF Child-Safe Browser, which allows children to navigate library-selected web sites without the distraction of questionable Internet content.  The AWE stations can only access web sites that have been added to the systems and vetted by library staff.  "I am a firm believer that children must have guidance when learning to navigate the Internet," said Slone.  "The addition of child-safe browsing in our children's area will help kids learn good information from bad information, and will give them experience navigating the World Wide Web, which they will be expected to do for schoolwork in the future."
Students struggling with a particular subject area can utilize the literacy stations in an effort to boost their skills.  "If parents inquire about tutoring or other individual learning initiatives, we can suggest that their child try out the AWE stations," said Slone.  "We continually strive to create strong connections with the families who visit the library, and this is yet another opportunity to do so."
Both the Early Literacy Station and AfterSchool Edge workstation come equipped with a great deal of statistical reporting capacity.  Library staff plans to utilize these capabilities to understand how often the machines are being used as well as to aggregate information about the skills attained by the users.  As data regarding young patrons' interests is obtained, staff can plan library programs accordingly.  "We may choose to focus on a subject or particular game the children have been enjoying, or we may plan to highlight a subject area that is underutilized, to generate interest," said Slone.
Students, parents, and teachers alike will be pleased to find links to the library's Kid Zone Catalog, AR Book Finder, encyclopedias, word processing software, and much more installed on both stations.  "Our new stations really are AWEsome," said Slone.  "We are thankful for the grant to allow us to continue our literacy efforts in the community."