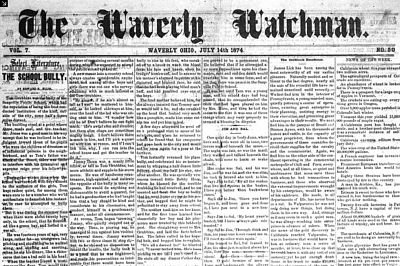 The Garnet A. Wilson Public Library is pleased to now offer digital archives of the Waverly Democrat and Waverly Watchman newspapers, which can be accessed under the "Genealogy & Local History" tab on our website.
The digitization of these papers has been made possible by the Columbus Metropolitan Library, via funding from the Institute of Museum and Library Services and the Ohio Public Library Information Network.
Currently, the collection includes newspapers from December 21, 1866 - July 28, 1874.  Digitization of more recent editions will continue throughout the coming months.
The digital collection can be viewed at http://tinyurl.com/pyy54lg.