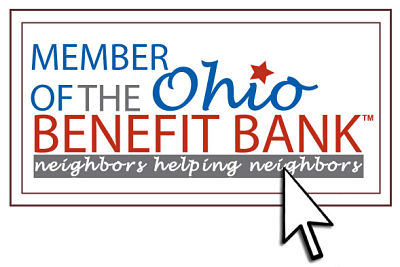 Click here to access the Ohio Benefit Bank Self-Serve Portal
The Garnet A. Wilson Public Library is a proud partner of the Ohio Benefit Bank, a ONE-STOP SHOP for applying for social services.
Need financial help?  Use the Ohio Benefit Bank's Self-Serve site to find out if you qualify for the following types of assistance:
Food Help:  Assistance paying for groceries, school meals for kids K-12, and nutrition programs and meals for seniors.
Medical Help:  Medical assistance programs for children, seniors, pregnant women, prescription costs, etc.
Senior Help:  Job training, nutrition services, medical and prescription benefits, and healthy lifestyle programs for those 55 and older.
Housing Costs Help:  Assistance paying for your home utilities.
Job Help:  Big Brothers and Sisters program for youth with incarcerated parents, Ohio fatherhood programs, and Ohio vocational rehabilitative services, and employment programs for seniors.
Youth and Family Help:  Help with family needs (such as groceries, cash, and healthcare), as well as a tool for youth exiting foster care.
Veterans Services:  Veterans can apply for education and training benefits, housing benefits, request military records, access blank forms, or locate a Veterans Service Office.  Family members of veterans can apply for education benefits that have been transferred to them by a service member.
Taxes:  Walk through your tax return by screen, then E-File your federal and state tax returns for FREE!
Student Aid:  The FAFSA is used to determine eligibility for grants, scholarship and student loans for college or job training programs.
Voter Registration:  Register or change your registration information.
If you need assistance setting up a profile on the Ohio Benefit Bank's site, please contact the library's computer trainer Kim Roush at (740) 443-9621 to schedule a one-on-one training session.